Testimonials
KiwiGrip has been applied to tens of thousands of boats worldwide. Here's what some of them have to say about KiwiGrip.
We are very pleased with the results, The deck looks great and a single coat covered the unevenly colored deck (mostly white with brown patches of epoxy where I'd made repairs). Here is a tip other customers might find helpful. I used a 4" plastic squeegee-type slotted trowel to evenly spread the goop before my wife rolled in the texture using the roller. It allowed me to spread an even layer and worked quite well. Thanks.

Gary Morgan-Gohlke, S/V Ruach, Seabrook, Texas
---
KiwiGrip was a dream to use. It is a quick, no-mess way of cleaning up tired old decks and applying a superior non-skid finish. It covered all of the spots where I have moved deck fittings and filled the unwanted holes with epoxy. They literally vanish under KiwiGrip. So far my KiwiGrip decks have endured record heat, kids, burning embers, beer, ice, snow, and sea otters without a mark. My next boat will also have KiwiGrip on the decks.

Brad Urie, Nanaimo, BC
---
I thought you might like to take a look at some of the pictures of Reflections. Everyone thinks we did a great job and so do we! It looks even better than a professional job!

Gene & Sheri Seybold, S/V Reflections, Honolulu, Hawaii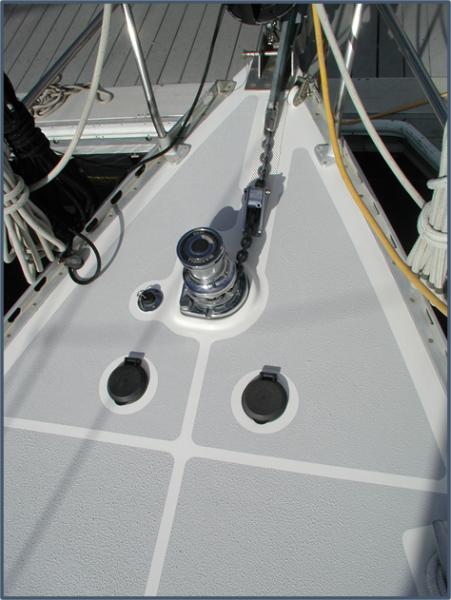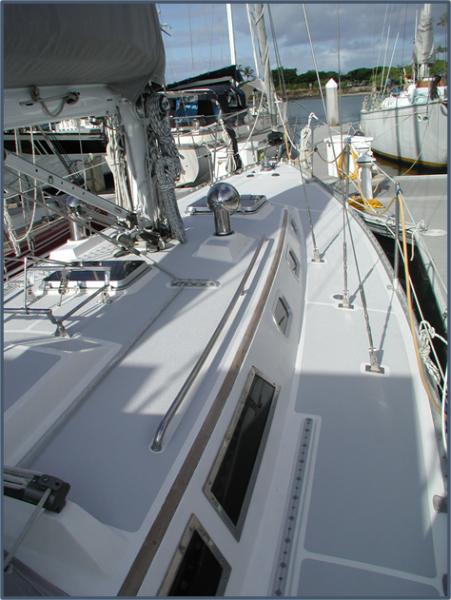 ---
The project is going great! Kiwigrip is the best invention ever and sure is a wonderful alternative to the normal non-skid do it yourselfers! I've had a lot of friends and other boat owners drop by to see the deck and they are all in awe of how pretty it looks. I'm sure you'll be getting more orders from Hawaii since they all asked for your email address and I showed them the info you sent me on application. It really sells itself. I did find however that it doesn't stick to well to 5200 sealant, but that's no big deal since the application itself is so easy and it really does look great and after removing the excess 5200 it goes on great.

Sammy Schlim, Honolulu, Hawaii
---
Have attached several pictures of KiwiGrip at end of one season (in NE). This is a fabulous product; ease of application, traction/grip and durability. Given the fact that this is a very dated design (1977 C&C 27), I felt that the results are extremely gratifying, and should prove to be an extremely attractive and economical solution for the plethora of older boats that are suffering from the same maladies as Capricious . Please note that the entire application took no more than two 6 hours days, by myself... over a weekend. I would consider myself "handy", certainly not a professional.

Larry Talbot, Boston, MA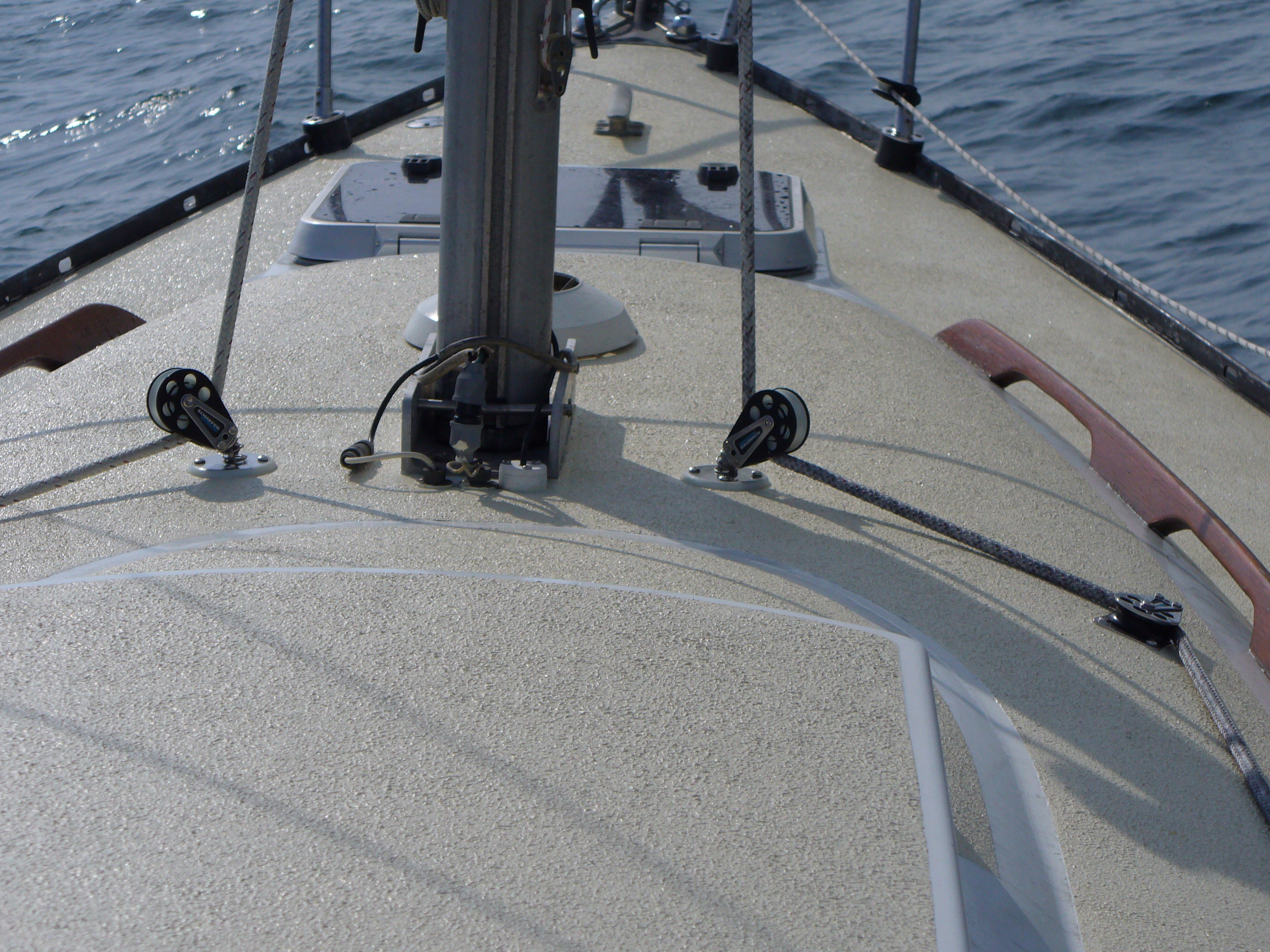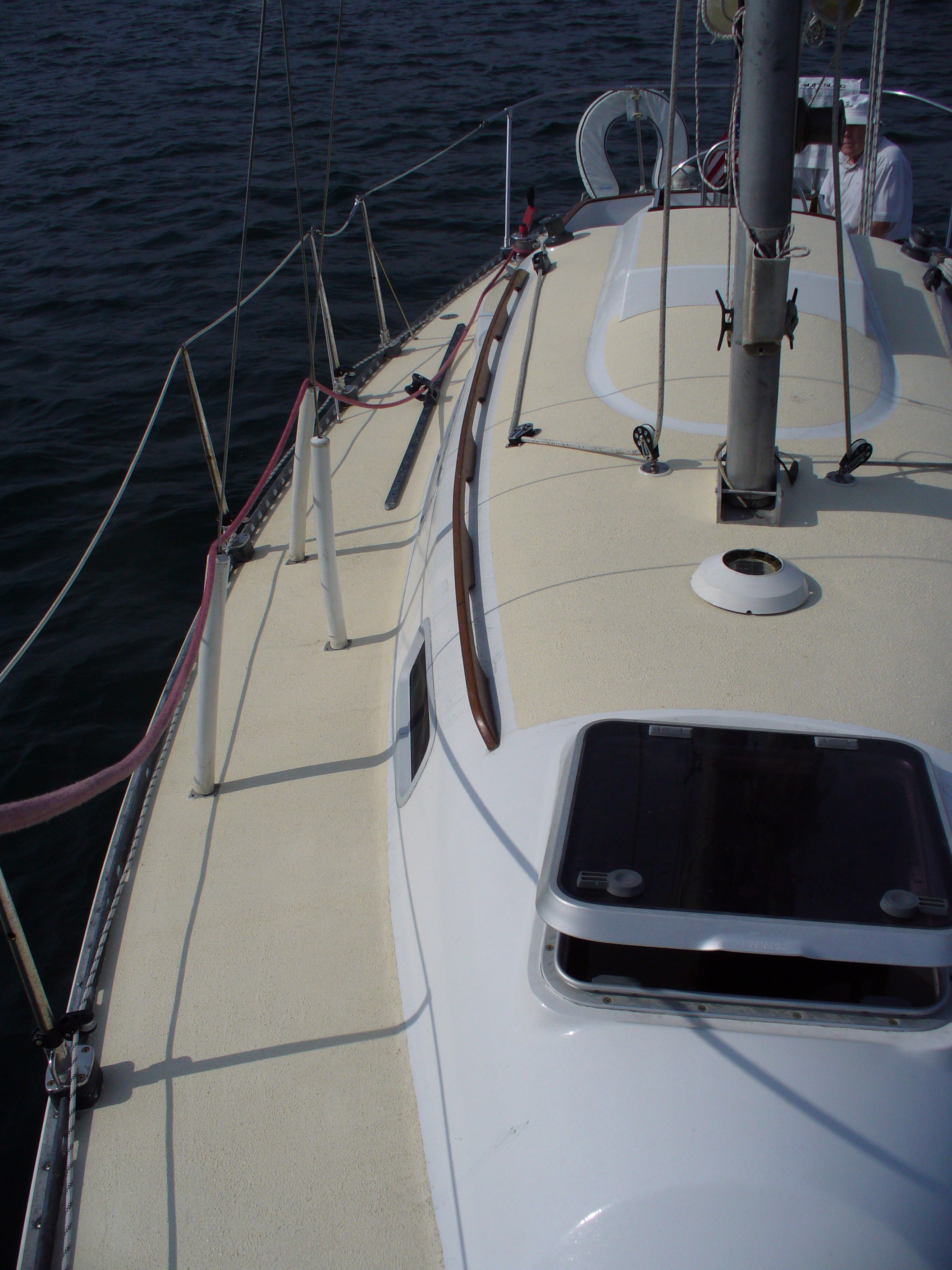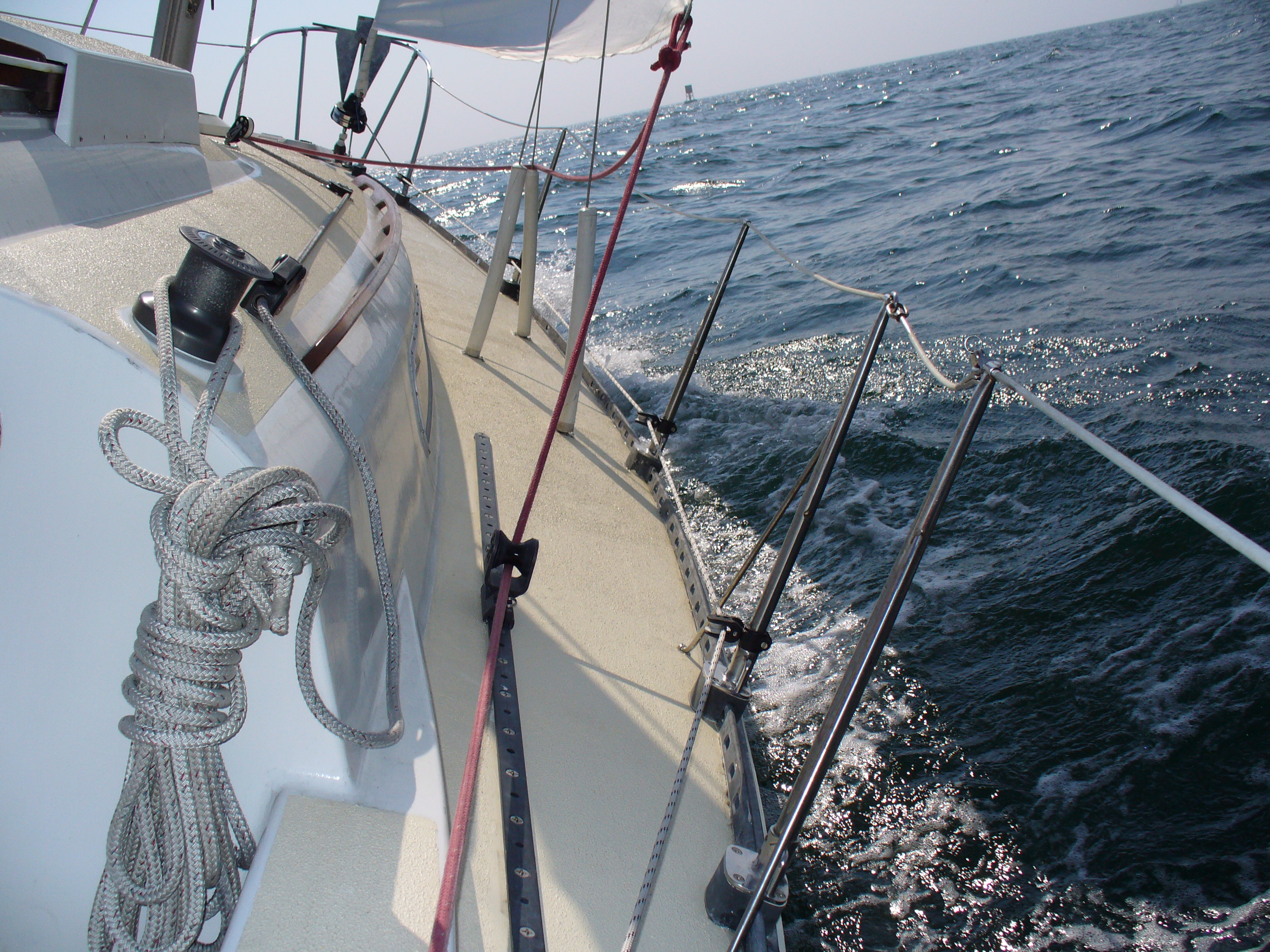 ---
Last weekend we were ready to apply the Kiwi Grip. We taped and Kiwi Gripped the boat all in that one day. The Kiwi Grip was easy and fun to apply! My husband HATES to paint!!! He even decided to help. He painted and I rolled. The breeze that day got heavier and the Kiwi Grip started drying so following right behind him worked well. My husband was so jazzed as I'd remove the tape off a section! He was like a boy on Christmas morning! Each section brought dramatic results! By time we got done, my husband said what I was thinking, "This looks like a new boat!" We were both soooo thrilled!

We didn't go back to the boat until this past weekend. We were tired and also wanted to let the boat set and cure. We had so many people at the dock stop this weekend and comment how nice the boat looks. Many knew I was using Kiwi Grip on the non-skid and were eager to see the results. My husband was singing the praises of Kiwi Grip and me to everyone that stopped and admired the boat. I thought he should start selling it because that's what it sounded like!

Jill Wilke, Anaheim, CA
---
KiwiGrip was very easy to work with. I had to cover a badly damaged and blistered deck on my boat and after a mediocre fiberglass repair job on my part, I applied KiwiGrip over the deck and it covered all my imperfections and it looks and wears excellently. I have been recommending it to my friends.

Bill Thomas – Vancouver, BC
---
KG came out nice. I worked solo--and fast. Had no other options. Early indications are that it provides a good grippy surface.

Gerri G, Western Pennsylvania
---
My dad's project in Panama went great. That was over a year ago and he is still totally happy with the product. I am sold on it and when I get around to doing it to this Cal 46, I will definitely be using KiwiGrip.

Emmet Sherwood-Hill – Panama
---
We would be delighted to have a prospective customer come & look over the boat if they wish. Phyllis & i have talked up your product & have given sailors your web site.

We are thrilled with the results & have had plenty of company aboard this summer. We hose it down after in the slip & that's it. I have some left over product in an air tight container for future touch up if needed. Love Kiwi Grip. Best regards & keep in touch especially if you develop any new products.

Bernard F. McKernan – Baltimore, Maryland
---
Hello Kiwigrippers, I did my deck on my Aquasport 170 1979 this spring and I must say, two thumbs up for your product, my boat turned out great! Check out the pics on the KG photos page.

Marc Quintin, Ste Julie, Quebec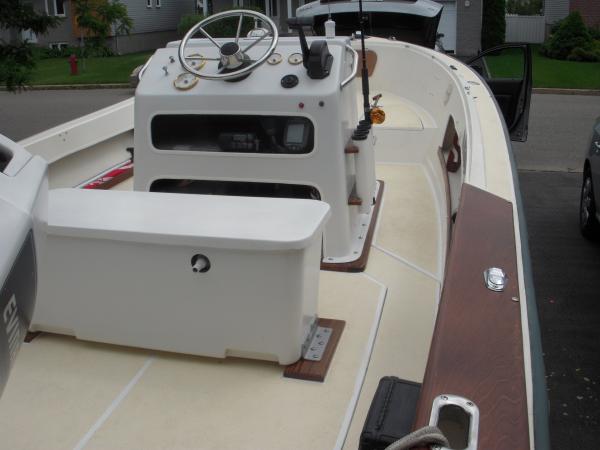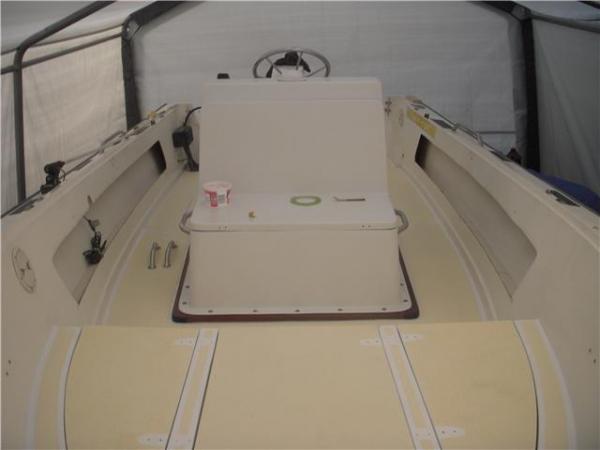 ---
Your KIWIGRIP is on the deck and in the shower toilets and also under the bridgedeck. Feel free to use our cat in your advertising. The Non-Slip worked very well although we need to brush up on our application technique a bit. The builder likes it!!

Bob Mott – Thailand Boat Builder
---
We are very pleased with the results in our 9' Spindrift Nesting Dinghy. We will be using KiwiGrip from here on out when we need non-skid. Thanks!

William Connor, Boulder, CO
---
I wanted to share my Kiwi Grip story with you, as I just made my second purchase of the product. I just finished a complete re-finish of a small "Sunfish clone" for my son. The boat was in very poor shape when it was given to me. We worked together to completely re-do, including Kiwi Grip on the non-skid. I believe the results speak for themselves. I liked it so much that I am now going to re-do the non-skid on my Catalina 30!

Mark Hamilton, Charlott, NC
---
I'm sure you guys are tired of hearing it by now, but I just wanted to mention I applied Kiwigrip on the aft cabin sole (ugly sealed plywood with dents, old screwholes and some missing ply), and I can't get over how fantastic it looks.

It doesn't just look new, it looks classy. Something you'd expect to find on a brand new boat, not a 1975 Cal 2-46.

I'm waiting on a gallon of cream Kiwigrip to refinish the deck, and I can't wait to see what it's going to look like.

Thanks for bringing such a wonderful product to market!

Gordon Lamb, Ontario Canada
---
Hey Guys! I am just about to set up for recoating my decks with Kiwi Grip! I have to say when I applied the product (in 2011) I was a little doubtful of it's longevity...but it has held up amazingly well! This on a boat that gets raced every Wednesday night, cruised every weekend and partied on in between it has held up incredibly well...we are going to do the cockpit floor and seating areas as these get the worst of the wear! I have done several other boats for people in the intervening years and they all have held up great! Amazing product!

Thank You,

Mike L, S/V Bear's Mistress
---
I bought a gallon of KiwiGrip about 7-years ago for my club racer a Lindenberg 26 here in Canada. I then went cruising on our Endeavour 37 and every year used up the good warm weather (Atlantic crossing & Europe) and just now (Oct/2019) opened up the can. It was dried out & you could pick up the contents with your hand. I put some in a pail & added water & mixed with a large mixing tool (I use for mixing floor tile cement) attached to an electric 1-hp tool. I was amazed how quickly it blended back to the yogurt consistency. I kept doing this in 3-batches & over a few days painted the deck, cabin top & cockpit. To say I am happy it worked is an understatement - this stuff is great! I had looked to find a self-life for it with no luck, but I can tell you I think it may last many years & still be OK.

Thank You,

Jim Norris
---
Dear Kiwigrip, We spent the weekend applying KiwiGrip on our 1991 Sam L. Morse Bristol Channel Cutter 28's decks. I had tried some one part non-skid with sand in it in a small area with poor results. Sand clumped up and a thin coat was hard to achieve. Your product is so much easier to apply it's almost fun. Results are great over the woven fabric texture molded into the deck. I like you can play with how aggressive the anti-slip is with that roller. I doubt I'll ever use anything else.

Robert R.