You may find yourself needing a marine electronic radar mount but have very specific requirements. Off the shelf mounts just won't work as they won't fit your specific application. You need a Seaview custom mount. A little while ago I wrote a blog that went over the basics of our custom process. Here I'm going to answer some of the more basic questions that get asked before starting a Seaview custom.
What information needs to be provided to get a drawing and quote for Seaview custom mount?
You need to provide the manufacture and the model of the electronics you want to have mounted. Specify what boat this mount will be going on and any special requirements, such as height of radar, angle of mast, etc. The more information you can provide us at the beginning the quicker and smoother the process goes.
How long does it take to have a custom Seaview mount made?
Typical lead-time to build a custom Seaview mount is 3.5-4 weeks. This is from the time that you the customer has confirmed and approved of the design to when the Seaview custom mount is shipped. This of course various depending on the complexity of the mount, but in general this is the typical amount of time it takes.
How long does it take to get a drawing?
Usually about 1-2 days you will have a drawing of a Seaview custom mount for review. You will receive a standard blue print drawing with all dimensions listed. These drawings are done in SolidWorks by our Seaview engineers. A 3D rendering will also be provided once the drawing is approved.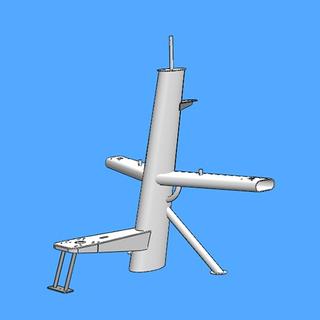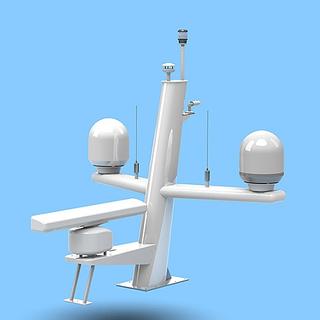 The drawing on the left is what one of the first drawings you'll receive from Seaview. Along with this you'll get a standard dimensional drawing. The image on the right shows you what kind of final rendering you'll receive. Here again you'll also get a final dimensional drawing.
Are the Seaview custom mounts painted or powder coated?
All Seaview custom mounts are primed and then powder coated. This ensures the maximum reliability to withstand the harshest conditions you throw at it. Seaview custom mounts are powder coated using color code WH04 by Cardinal Paint.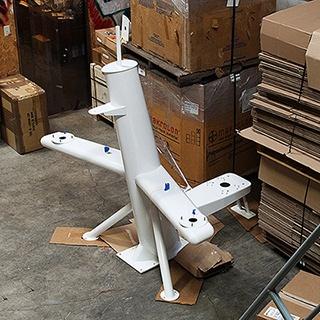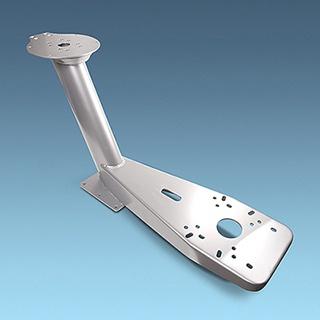 Can my Seaview custom mount be powder coated a different color?
Yes, we can match powder coating. There are a variety of stock colors to choose from. Just need a color code or a sample sent in of the color you would like to match to.
There you have it, no more excuses for not having a marine radar mount for your boat. Now go ahead and try to think of the craziest and wild radar mount you can think of and go ahead and approach us with it. I dare you.
-Jason Abrahamsen