PYI has a vested interest in making sure you are aware of some of the items that can affect your boat's long-term use. Keeping your boat, a considerable asset, at an operational level helps to ensure its seaworthiness, and we don't have to tell you it's also more affordable in the long run. If you're interested in what it will take to get out on the water this year, read on.
We all know that the time to get our boats ready for the season isn't right before we plan on taking that first trip. It's winter/spring right now – while we still have plenty of time to identify needed maintenance, order any required parts, get them to you so you can get in the queue at the boatyard well in advance is essential.
Our PYI product specialists have identified the top three maintenance issues you'll want to tackle this month. Two of them you may not have thought about in years, and the third will not only make your boat safer for you and all your passengers – it'll refresh the look of the topsides without extensive yard time.

Is Your Boat Wandering?
Maybe it's time to inspect your bushings and rudder bearings.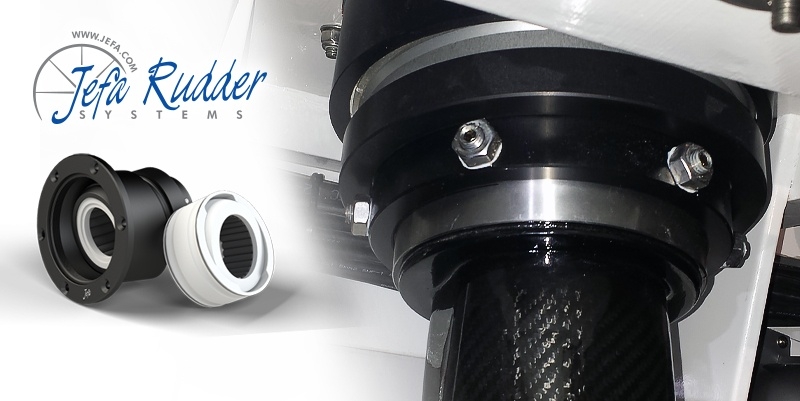 Do you know whether your rudder has bushings or bearings? Don't beat yourself up if you don't – they're often out of sight, but with proper ongoing maintenance, you can expect them to have a long functional life. If you bought your boat secondhand by chance, it would be a good idea to give them a once over.
A few common configurations could include a block of hardwood with a hole to allow the rudder post to pass through. Another is a man-made material that acts as a bushing that the rudder post passes through. The third is a bearing set that incorporates needle or roller bearings.
Here's how to identify if your particular bearing is in need of maintenance. If you move your wheel back and forth with small sharp movements, does the top of the rudder head move out of the column? If the boat is out of the water, can you grab the rudder blade's base and move it side to side where it creates a possible bumping noise? Does the helm get very difficult when the rudder is under load? Each of these can be signs that the rudder bushings or bearings are in need of some TLC.
If you have bushings, make sure they're clean and look for excessive wear and tear. If they're worn, replace them. Bushings have a long operational life with proper care – you may replace them only one or two times over the lifetime of your boat. If maintenance is needed, it can require a boatyard's involvement since you have to get your boat out of the water to get to the lower bushings or bearings.
If you have Jefa bearings, you'll want to check for damage plus ensure that they're in good working order. The term is "radial movement" – you want to check for fore-and-aft and side-to-side play. If there is any radial movement, a wiggle, or hear a rattle, odds are your bearing needs to be addressed. But if they don't, we recommend a good rinse with fresh water that will help keep them clear of obstructions, like marine growth.
CAUTION: Never, ever put grease on your rollers – it'll gunk them up and impact their performance. With bearings, you want to avoid "grit, grime, or growth" in the bearing sets to maintain the steering's optimum performance.
Is It Time For Your Annual PSS Bellows Inspection
The 5 things you need to inspect annually.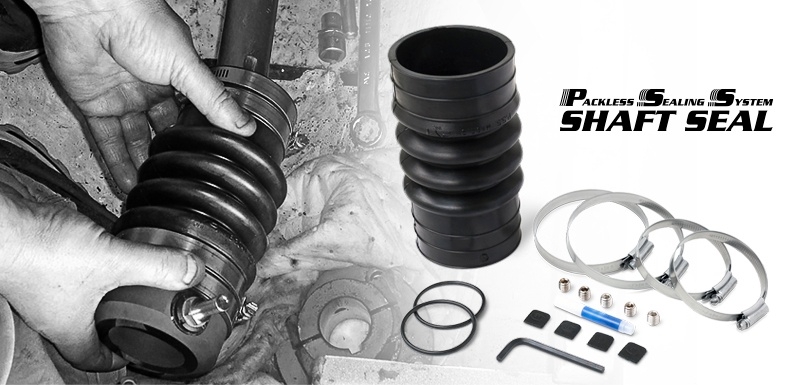 In our PSS instructions, we recommend that the bellows are replaced every six years. Because the PSS aids in keeping water out of the boat, the time to replace those bellows is when the boat is out of the water. The PSS Shaft seals are one of those necessary-but-not-highly-obvious items that you may know are in your boat, but you may not be aware of just how important it is to maintain them properly.
One of the PSS Shaft Seal's key components is a nitrile rubber or silicone bellows that are installed below the waterline. Because of the seals location, you want to have it inspected annually (or even several times a year, depending on use) for wear and tear, aging, or chemical deterioration – especially if you have non-sealed batteries that emit sulfuric acid or if your vessel is equipped with an Ozone Generator. If your PSS Shaft Seals bellows need replacement, our maintenance kit provides all the necessary hardware and replacement parts, including the bellows, our stainless-steel hose clamps, o-rings, and set screws.
If you've had your boat for four or five years and never replaced the bellows, it may well be time to refresh your seal. While you've got your boat up at the boatyard for the other get-ready-for-season maintenance checklist items, add inspecting your shaft seal to that list. You've already invested the time, energy, and money to haul your boat out – it's the perfect time to take a look at this key issue as well.
TIP: When you order your PSS Maintenance Kit, you'll need to know your vessel's shaft diameter and stern tube outside diameter.
Protecting Your Guests Can Be A Slippery Slope
Non-slip is a must-have to keep crew and guests safe.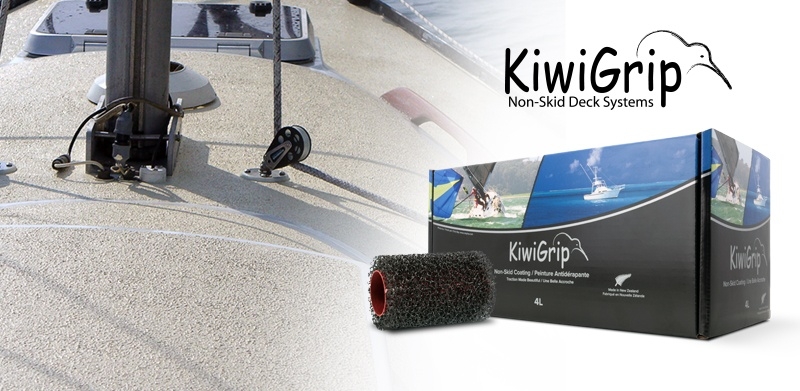 Let's be honest: there are some things we have to do for our boats, and there are some that we just want to do. And KiwiGrip non-skid coating is one of the latter. Yes, it makes your vessel safer for your passengers, both two- and four-legged, by creating a textured surface that allows for firmer footing. But it's so much more than that because it's an easy-to-apply DIY project that any of us can do. And since it's available in five stock colors and can be custom tinted to any color you choose, it allows you the freedom to express your and your boats unique personality.
March's warmer temperatures make it the perfect time to apply KiwiGrip. With a few easy steps – surface preparation, masking off the area, and application – can be turned around within a few days, and by varying the application texture, you can adjust the texture from a rolled aesthetic color finish paint to a full-on maximum non-skid texture. Each level of texture is achieved by the application technique and process you use. Clean up is a breeze: all you need is soap and water to wash your brushes.
And what many people don't realize is that KiwiGrip can be used for much more than just boat decks. How about that slick dock where your boat is moored? How about the back steps leading up to your house? The area around your hot tub? Anywhere you don't want your loved ones to slip is the perfect safety-first surface for KiwiGrip.
FUN FACT: Outside New Zealand (where it's manufactured) and Australia, PYI is the only company licensed to service the rest of the world for KiwiGrip non-skid coatings.
Now you have your maintenance "marching" orders for this month. If you have any questions about our Jefa rudder bearings, PSS Shaft Seal, or KiwiGrip non-skid coating, please don't hesitate to reach out to us. We take great pride in our customer service and attention to detail and will be glad to help you by phone or via a Zoom meeting with one of our product experts.
Pro-Tip. When you are inspecting critical pieces of your vessel take and retain a digital photo for future reference. This will allow for year-to-year comparisons and possibly an unwanted run to the frozen boat for a photo to show your yard.
What to expect in April Newsletter. Grease and zinc change for your Max-Prop, KiwiGrip texture advice and custom coloring, and Sonihull DIY advice.