I cannot tell you how many times I've cut myself on the tails of hose clamps and other worm gear style of clamps. And I'm sure I'm not the only one who has run into this problem. There has to be a simple fix to this problem! And there is, PYI Inc. makes these little rubber covers that slip over the ends of hose clamps. These covers which are called Clamp Jackets fit either 1/2" or 5/16" hose clamps. Both of these are color coded, the 1/2" Clamp Jackets come in black while the 5/16" Clamp Jackets come in blue. Clamp Jackets are extremely easy to apply, they simply just slide on the ends of hose clamps. They are notched on the inside to prevent them from falling off.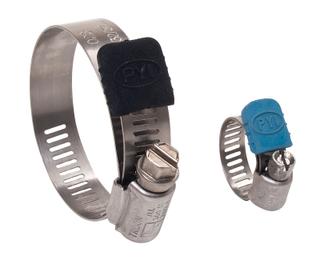 Materials
These are made from EPDM rubber and are able to operate in temperatures of -65 to 300 degrees Fahrenheit. EPDM was chosen because it is resistant to and performs well in brake fluids, acids, alkalies, ketones, water and steam (up to 400 degrees Fahrenheit).
Uses
Not only do these protect you from possible injury but they look great too. Clamp Jackets will give your work a nice clean finished look. These will also help to protect all the surrounding material from being scratched. There are numerous applications for Clamp Jackets, for one these come on all PSS Shaft Seals.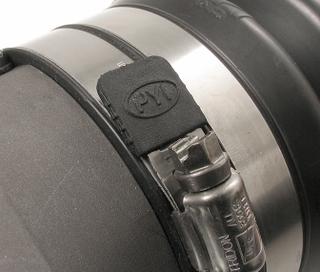 They are great for automotive, marine, household, military and much more. All in all the Clamp Jackets by PYI Inc. are a very cheap solution to a very annoying problem. Many others think so as well, in fact Boating Magazine rated the Clamp Jackets as one of the greatest boating gear of all time. So quit getting scraped up every time you are working near hose clamps and pick up some Clamp Jackets. After all they are cheaper than Band-Aids.
-Eric Young