In this blog we'll discuss how to install a PSS Shaft Seal. Our previous blog "Installing the PSS Shaft Seal: Step 1 Cleaning" we went over ways to clean your shaft prior to installing your PSS Shaft Seal. Be sure to read that if you haven't already as you want to make sure you shaft is free of any burrs.
Sliding the Seal Onto the Shaft
Once the shaft is free, your old packing gland is removed and the shaft has been cleaned you are ready to install the PSS unit. Slide the open end of the bellow (side without carbon) down the shaft and situate it onto the stern tube (also known as shaft log). Once in place slide the bellow onto the shaft log until the stern tube reaches the end of the bellow cuff, this should give you just enough room to tighten both hose clamps onto the stern tube. Make sure the end of the shaft log does not penetrate past the bellow cuff because it could damage the inner ribs of the bellow and limit the bellows allotted travel compress ability.
Tightening Hose Clamps and Installing Clamp Jackets
After the hose clamps have been tightened cover the tails of the clamp with the rubber protectors (Clamp Jackets) provided. This prevents unnecessary snagging of any material in the bilge. It also protects you from getting cut by the sharp ends of the hose clamp tails.
Installing the Stainless Steel Rotor
After you have the bellow installed on the shaft log it is time to install the stainless steel rotor. Make sure the carbon is held firmly in place by the hose clamps and that its face is free of any defects before mating it to the rotor. After removing the rotor from the package double check that there are two o-rings inside the grooves of the rotor. Begin to thread the first set of set screws into the rotor to make sure the threads are clean and then back the set screw out slightly making sure it is not sticking our into the bore of the rotor. Lubricate the o-rings with a little dish soap (do not use grease or oil) to help them slide down the shaft easier and fit the rotor onto the shaft.
Re-attaching the Shaft
At this point you can re-attach the shaft to the coupling according to the manufactures specifications. Check the carbon and make sure it is centered on the shaft and the bellow is secured to both the carbon and the stern tube.
Compressing the Bellow
It is now time to add compression to the bellow and plumb it to a raw water source, if necessary, or run a vent line coming off the hose barb on slower speed boats (under 12 knots). Refer to step 15 of the PSS installation booklet for more information.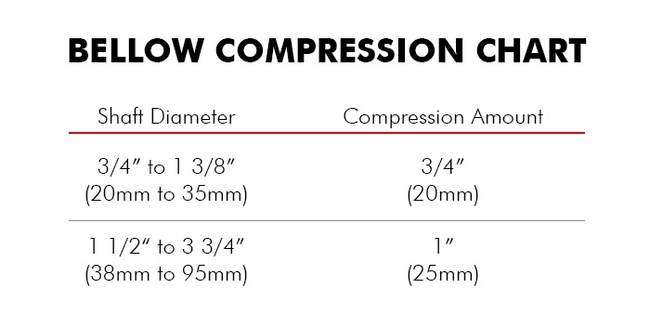 Below is a YouTube playlist showing each step we covered here in this blog today.
As always if you have any questions leave a comment below or email us or give us a call at 425-355-3669. We'll happily answer any of your questions. Also, before installation please read our PSS Shaft Seal installation instructions: