NO, Seaview completely changed the product line to add more convenience and versatility. The older Seaview product was not modular and fit only a specific marine electronic brand make and model. Now there is a complete line of modular mount styles to choose from and an easy 1,2,3 step process to build a desired mount assembly.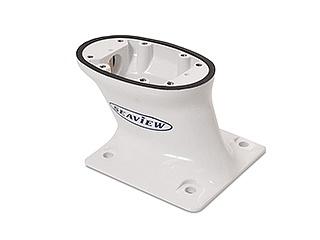 Step 1: Choose a mount style and height
Select a modular mount style and height. Seaview has a wide range of products to suit your needs. There are forward and aft leaning mounts ranging from 5" to 36" in height. Vertical mounts that range from 5" to 18" in height. Another popular choice is Seaview's line of combination mounts, also known as dual mounts. The bottom platform is pre-drilled and will hold all radar makes and models, while the top platform is for either satdomes or thermal cameras. The different level platforms eliminate any radar interference. For optimum performance you want your satdome to be mounted clear above any other electronics.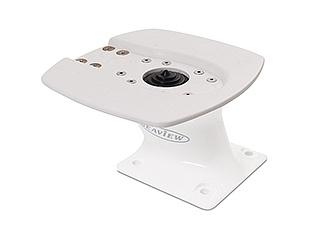 Step 2: Select a Top Plate
One of the new additions to the Seaview modular mount lineup is the Top Plates. A unique UV resistant plastic polymer is coated all over incasing the anodized aluminum top plate. This closes all the pre-drilled holes. Now you might be thinking, how do I know where to drill holes to mount my radar or satdome? Easy! There are little dimples or markings all over the top of the plate. Each top plate is supplied with a drill template that matches up with the dimples for certain radar and satdome makes and models. This allows for very precise drilling to your application. The end result is a very clean looking top plate, not a bunch of additional holes (no more of that "swiss cheese" look to universal plates). Another added benefit to this new modular design is that if you do change your radar or satdome that has a different bolt pattern you no longer have to purchase a new mount. In this case you only have to purchase a new top plate.
Choose your modular top plate by following your Marine Electronics brand make and model. i.e. Raymarine, Garmin, Furuno, Simrad, KVH, Intellian, FLIR etc.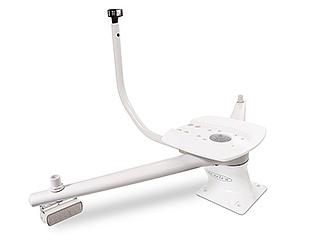 Step 3: Pick out a light bar and other accessories
The third step to building your own Seaview modular mount is to select the optional accessories you want. Optional accessories such as light bar, tapered spread kit, LED lights, GPS mount, Floodlight kit, hinge base or angled wedges.
When selecting a light bar be sure to choose a light bar top for it. Seaview light bars do NOT come with lights, these must be purchased separately.
The Seaview Tapered Spreader Kits are also a new addition to the modular lineup. These give you the ability to add accessories such as GPS units to your radar or satdome mount. Read our other article on the "Seaview Spreader Kit, It Gives You Wings!" for more information.
As you can see there are numerous possibilities with the Seaview modular mount system, with each being tailored to your specific needs. Visit www.seaviewglobal.com to help guide you through the steps and build a mount to best fit your application.
-Jason Romesburg