Our very own Frederic Laffitte will be participating in the 2019 Transpac aboard Hamachi! Race starts July 10, stay tuned for updates posted here.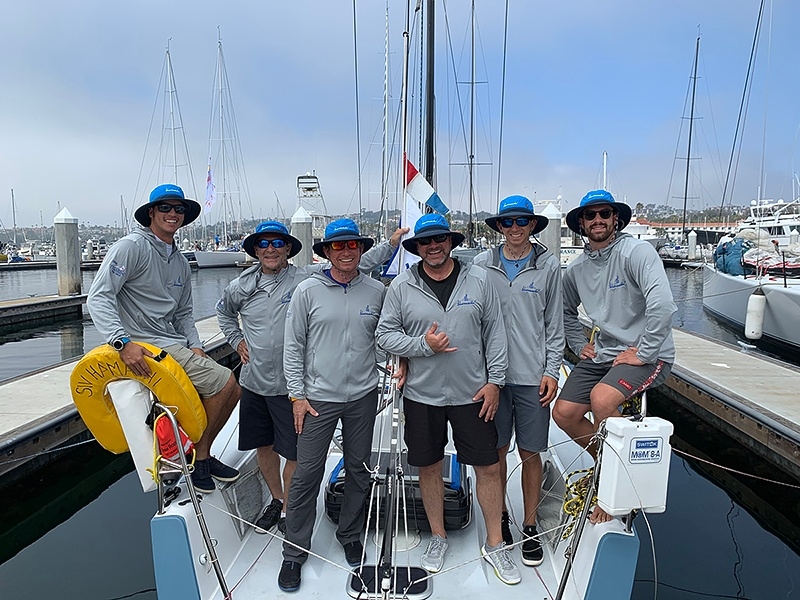 July 13, 2019 Update
There are 3 other J125's in the race and Jason may make reference to them in his reports: Reinrag2(previous overall winner), Snoopy, and Velvet Hammer.
Shawn, Matt and David also referred to as the Starboard watch took the early watch 8-12am, while Jason, Fred and Lucas aka the Port watch had the dog watch 12-4am. Here's Jason's report from the dogwatch:
Currently power reaching in 10-15 kts. with full main, J1AP and genoa staysail with 9-10 kts boat speed. Clouds just cleared and beautiful night. Good start and run across to Catalina. Missed clearing West End by 100 ft. Turned north for a bit and holding that part of course splitting Hammer and Snoopy with Reinrag to the south. Good dinner and settling in to watch rotation.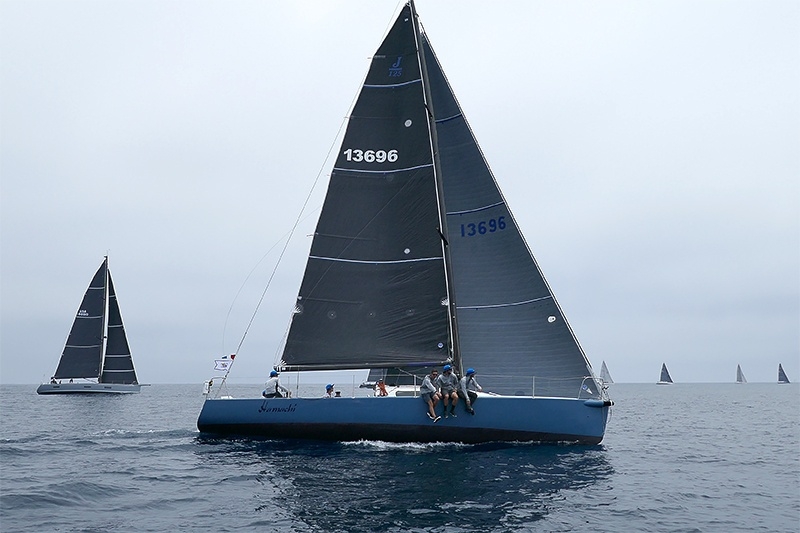 Earlier, Jason had reported on Facebook that Hamachi was the first J125 around Catalina.
The morning brings a new day. Here is Jason's report for today:
Port Watch of Jason, Fred and Lucas crushed the Dog Watch (12-4am) and put the hurt on Snoopy. Boat is going fast and we like our place on the course. Power reaching in 15-20kts w reefed main, AP and genoa staysail. Rough wet conditions above and below deck. Starboard watch has had a bit of a puke fest. Shawn has been laid low since last evening and Matt struggled through the night. Boat is doing well. Crew in good spirits. Saw flying fish and albatrosses. Looking to thread the weather needle in next 36 hours.
If you have been at sea, no explanation necessary. The first 24 hours can be brutal to get your sealegs on.
Here's a video just sent from Hamachi at the west end of Catalina Island.

Pole is out! After beating and power reaching in rough and wet conditions for 26 hours, the wind clocked around enough to put out the pole and set the code zero. Especially symbolic since it will be all spinnakers after that. Soon there after we came down and crossed 400 yards in front of Snoopy. I guess mid ocean crossings are part of one design racing! The boat has flattened out and the ride has smoothed. Shawn is feeling better - we were getting a little worried. Sleep is still hard to come by - I might be at 5 hours for the trip. Appetites are coming back, which is good since we need to lighten our load of food! Not sure where we are overall - not sure we care. We are all sailing our own races at this point. We have sailed mostly 225 deg mag to get south and will skirt under the high.
Let's hope the wind continues to clock, as it should and give them the following seas and winds we all dream of and expect when heading into the tropics.
July 14, 2019 Update
This is shaping up to be the one design ocean race we expected. The J/125s are insight and crossing jibes. Fortunately, HAMACHI is in front. Here's Jason's report:
Great night of sailing. We were ripping along with Code Zero, full main and genoa staysail hitting up to 16kts in 12-18kts of wind. Watched Snoopy pass out of sigh behind us. At the midnight watch shift we put up the A3 to run deeper and avoid spinning up into the high. At the 4am watch shift we put up the A2.5 to sail deeper still. Around 2am we saw Velvet Hammer slip past our stern 2miles out chasing a deeper line. They now sit on our hind quarters matching our heading - this is one design drag racing across the Pacific!
Boat is in good shape except for a bad speedo. Not really sure how fast we are really going but we are having fun and appear to be doing well. We have WAY TOO MUCH food onboard and just offered other boats in the fleet to come on by.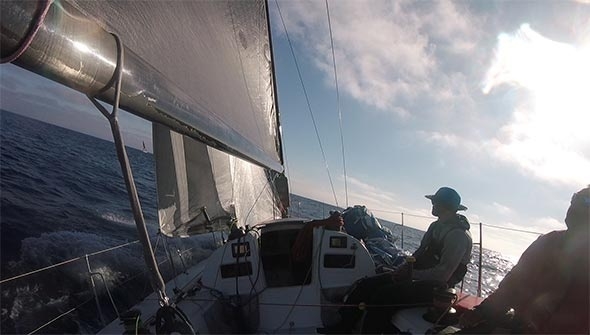 The last photo is an image taken onboard Saturday 30 nm west of Catalina Island. Boat speed 8.5. You can see Velvet Hammer to the left who are now behind HAMACHI! We hope to receive more onboard photos.
After solid 10-20 for the first 40 hours it got light this morning.
Hamachi switched to its A2.5 at the 4am watch shift and worked south/southwest in 10 knots most of the day. The lighter air and flat seas allowed us to do some much needed housekeeping, which included going up the rig and doing a check as well as configuring halyards. We flew the drone for the first time and captured these pictures of the boat and crew with Matt Pistay aloft. A general funk has permeated the boat and it's been traced to many damp socks and gear. It's now 5pm and the skies are clearing and the wind is filling.
Okay, how many of you out there have been the recipient of boys' used sporting gear thown into the dirty clothes bin next to your good blouse? Multiply that, surround yourself in it and you get a sense of what the living conditions are like….and they aren't even in the tropics yet!
On to the pictures: the first one really gives you a sense of what it was like the first 2 days.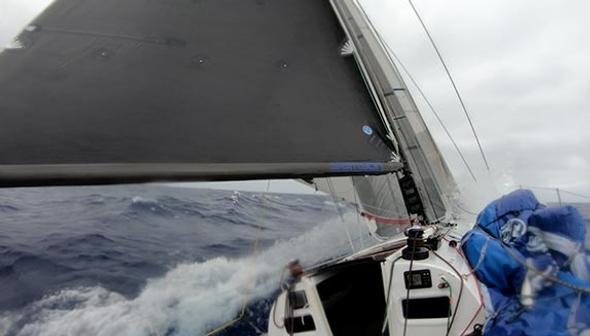 These pictures are from us blast reaching with full main, Code Zero and genoa staysail around 3pm on Saturday. We spent 26 hours pushing upwind from the start and we had just put the pole out and started bearing off as the wind clocked around. Soon after we came down on and sailed 1/4 mile in front of Snoopy. Good to see that we have a boat speed advantage on the other J/125s.
The second shot is from the drone-awesome to be able to look at the whole boat at sea.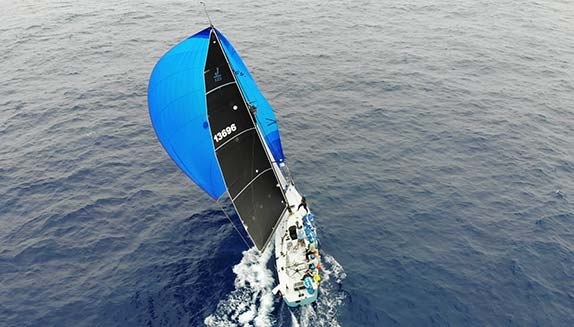 Matt enjoying the ride and Jason driving. Was completely overcast Saturday and so far Sunday but the sun is threatening.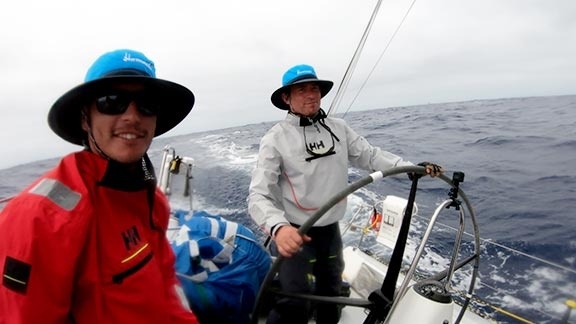 July 15, 2019 Update
The "Old Man" loves the boat. An hour ago he said "we should double hand PacCup in this thing next year". Lucas is loving the experience, and so is the rest of the crew. Fred tells us this has been a gentle sail so far - he expected worse. Matt has been running all over the boat fixing things and doing projects, because he just can't sit still. Shawn is back to his old self and enjoys the driving. It was a little rough for David during the first 48 hours with Shawn down and out - so he had to split his time between sailing and navigating. Since then things have smoothed out and I have been downloading gribs and doing some of the navigation busywork. The boat is super easy to sail so it's mostly doublehanded on deck crews with David doing nav and me doing nav / media. Can't believe it's already 25% done!!
We have settled into a routine and the bodies are adjusting. We all crash out now when we are off watch. The food has been amazing. Had the enchiladas and daube today. It's taken a few days to work out the navigation routine but David has done an excellent job getting data to Fred and I. The three of us have worked well to develop a tactical and strategic outlook.
The Port Watch is currently on the dog watch (we rotate every day) sailing under a near full moon and broken clouds scooting along at 10-11 kts in 10-13 kts of wind. Seas are pretty flat but confused every now and then. Feels like Southern Straits. It's a beautiful night and we had dolphins alongside for a while..
July 16, 2019 Update
Team Hamachi enjoyed a beautiful night with nearly full moon, partly cloudy skies and 10-12 kts. When the sun came up the skies cleared and it got hot! This allowed us to dry things out and several of the crew, me included, decided to change clothes for the first time. We eagerly awaited the morning position reports and continue to find ourselves in agood spot. We are fortunately to have six good and eager drivers onboard so we can rotate to keep the boat going fast.
After a relaxing morning the wind filled from the northeast to 15-18 kts and we now have prime J/125 sailing conditions. The boat has popped up on the step and we are doing 13-15 kts through the water with the top boat speed competition in full effect (currently at 17.6kts). The high is consolidating and we expect strong trades to the finish. We are working to catch two Roger 46s in front of us, as well as hold off the other J/125s, and the weather is showing that its a drag race to Honolulu with potential record finish times.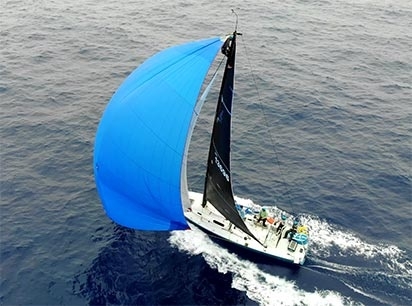 The Hamachi crew had a relaxing lunch of fresh spaghetti Bolognese on the back patio. The tunes were pumping. Everyone is well fed, rested and loving the experience!
The boys are eagerly lined up awaiting their turn to drive and the Godfather Fred is sitting in the barko lounger critiquing their performance.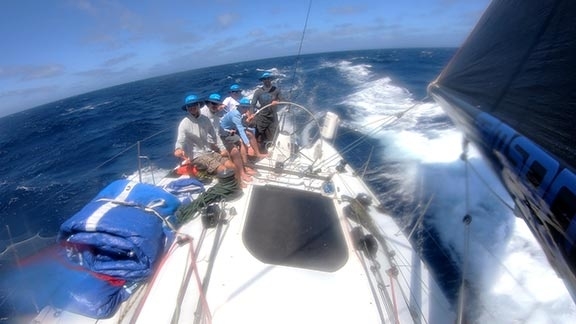 July 17, 2019 Update
Well, we don't know if it's EXACTLY half way but we have 1250nm to go and it seemed like a good excuse for a party (not that Team Hamachi ever needs an excuse to party). We gathered on the back patio to contemplate the race so far and pass our flask, which quickly devolved into a YMCA dance party with the drone circling the boat, all while doing 15-16 kts.
Our objectives going into the race were: 1) be safe, 2) have fun, and3) win. So far we are doing well in all three categories. Taking stock half way, here's some thoughts:
- Best Moment(s): Sailing away from our closest competition
- Crew Lowlight(s): Too many body fluids and damp socks in a small cramped cabin
Things We Have Plenty Of:
- Food: The weight Nazis will cringe knowing we went to sea with four days of frozen food and enough snacks for 12 days. There was a calculus of carrying more weight on the reach to keep the crew happy and sailing fast versus taking every last ounce off the boat.
(A well fed crew is a happy crew and a happy crew makes a winning crew!)
- Dude Wipes: Great marketing on someone's part. We can sail fast confident that our "dude parts" will stay clean to the finish.
- Boat Speed: Of the four J/125's, we are the only one with six crew.
Despite this extra weight, and all of our frozen food, we seem to have great boat speed.
Things We Need More Of:
- Purrell: clearly we should have thought this one through. We left with a small half empty container. Definitely need more of that.
- Hot Cocoa: The key to a fast boat is a well fueled crew. We have plenty of Starbucks Via but need more cocoa for our mochas.
- Ventilation: use your imagination
- Boat Speed: While we've got a lot, you can always have more...
- Kudos:
1. David Rogers has been crushing it as our Lieutenant Huru. It was rough going (literally and figuratively) in the first 24 hours as he was making up for a sick crew member and doing all of the boat data collection and navigating. Over the past few days he's stepped up the game and built tools to track the fleet, our performance and answer everyone's questions.
2. The Cooks: We are four days in and still eating frozen gourmet food.
Thank you Janet, Marian and Jason for doing all the cooking!
Are We There Yet?
The days are blowing by are we are a little shocked its already half way. Normally its a 10-11 day race for a J/125 but this year we are on track to finish in around 8 days.
Up Next:
Sleep. Eat. Sail Fast. Repeat.
July 18, 2019 Update
Transpac is a race within a race within a race. There are four J/125s, an above average collection, who are competing with each other to be the fastest J/125 on the west coast. Each boat has donated to a prize for the first across the line. This was our main focus going into Transpac, as it's been a friendly rivalry and a great chance to meet other J/125 owners. All four J/125's are racing within Division 3, which is highly competitive and comprised of 13 boats. It's a great honor to win your class at Transpac, especially in a class this competitive. Finally, there is an overall winner based on corrected time for all 92 boats.
For Team Hamachi, we have been tracking the other J/125's from the start. After day 2 we started tracking other boats in our Division and were both surprised and excited to see Hamachi climb our Division ladder. Then on Tuesday Hamachi started trending towards the top of the overall standings and now we've held the #1 in ORR (fastest boat overall) title for 24 hours. The crew is ecstatic but a little uneasy. We like being a pursuit boat, quietly seeking to pass the leader. We are not used to being the boat everyone is watching and trying to take down.
So needless to say the dance parties have stopped, along with the drone flying. We spend every moment pushing the boat to go as fast as possible. Living below is like driving your VW camper van down a black diamond mogul run. We constantly pull weather and position reports, we are gybing to find the best wind and wind angles. We are 920 miles from the finish and SENDING IT. Our current 24 hours record is 336nm. Top boat speed is 21.8kts (David Rogers).
Summary: This may be the last at sea update as time is now very short:
eat, sleep, sail fast, repeat...
July 19, 2019 Update
Latest message from Jason!
550 nm out. Sending it in 20-22 kts. Just blew up the A2,5. Now running under A4. top boat speed around 23kts. See you in Hawaii!
July 20, 2019 Update
Latest update and answers from Jason regarding boat speed.
Been a wild 36 hours. Things got tactical starting Wednesday and we went south to cover Velvet Hammer and Snoopy, who were heading south for more wind. We split the difference between them and Bretwalda and spent most of the day sailing in 20-22 kts. That evening the full moon was blocked by low clouds and we rocketed through the night at ludicrous speed in pitch black. The boat was barely in control launching off the tops of big waves and accelerating down troughs and up the other side. The speedo was often out of the water so boat speed was indeterminate but we saw at least 23 kts of SOG the next day. This subsided after a few hours and it was a relatively "calm" night with winds 17-20 kts.
Winds were down Thursday morning and Fred towed his Mahi Mahi lure behind the boat for an hour. Didn't catch anything - too fast. Thursday was lighter in the morning (12-15 kts) with big seas. Then the squals started and the wind picked back up, along with even bigger seas. The boat was back to rocketing along at 18-20 kts in 20-24 kts of wind.
We set our A2.5 spinnaker back on Sunday morning around 5am and it has been up ever since. It carried us 1500 miles across the Pacific through some wild conditions but at 10pm PDT last night it suffered one too many indignities at the hands of its crew and blew apart. We quickly pulled it out of the water and launched the A4, which we'd packed knowing we were pushing its limits.
It's been inshore match racing for the past 500 miles, and will continue to the finish. We gybe on the shifts and have seen some crazy wind angles. Right now the GFS says the wind should be at 58mag but we are sailing 95mag directly at the finish. Aloha! We had the A4, then switched to the backup (older) A2.5. Navigating more squals and just trying to keep the boat and gear together while we sail fast! Winds have been lightening some so expected finish is around midnight Sat (PDT).
July 21, 2019 Update
Latest report from Janet:
_Team Hamachi slayed the field of J125's, Division 3, and finished the First Boat Corrected Overall. WIN. WIN. WIN. The boys came into the dock around 03:00AM and the Mai Tais flowed. Hence, you will have to wait for Jason's onboard report. _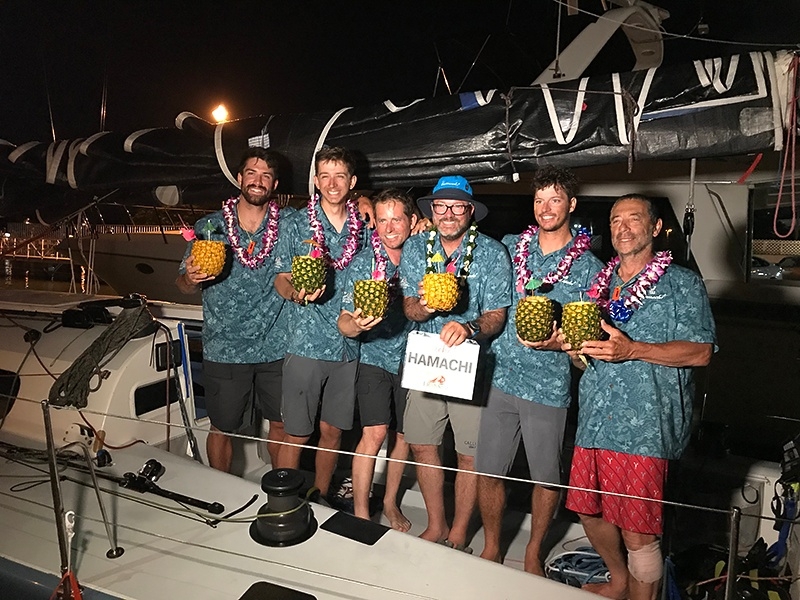 July 22, 2019 Update
We did it. But the last 24 hours were really intense.
We were struggling to cover both Bretwalda 3, which was focused on sailing as fast as possible to Oahu, and Velvet Hammer, who was playing a tactical game. The Hammer was heading for the right corner to establish leverage on us, while we sailed more of a rhumb line to keep our VMG high. Squalls were rolling across the race course creating challenging wind angles and large wind holes. We struggled very early Saturday morning and watched the separation increase with Bretwalda, and our advantage decrease with Velvet Hammer. Hamachi had been atop the ORR overall standings since Wednesday morning, but all of us felt that lead slipping away.
Around 3am a series of squalls came through that increased pressure and improved wind angles which allowed us to start making gains on the competition. Then just after sunrise we gybed right on a favorable shift to cover Velvet Hammer and rode that for many hours. Sailing was slow in 12-15 kts of wind, even though they were forecast to be 20kts. Around this time we came into contact with Bad Pak (Pac 52) and Peligroso (Kernan 70), top sleds that started the day after us. Seeing these boats less than 200 miles from the finish made us start to comprehend the magnitude of our accomplishments.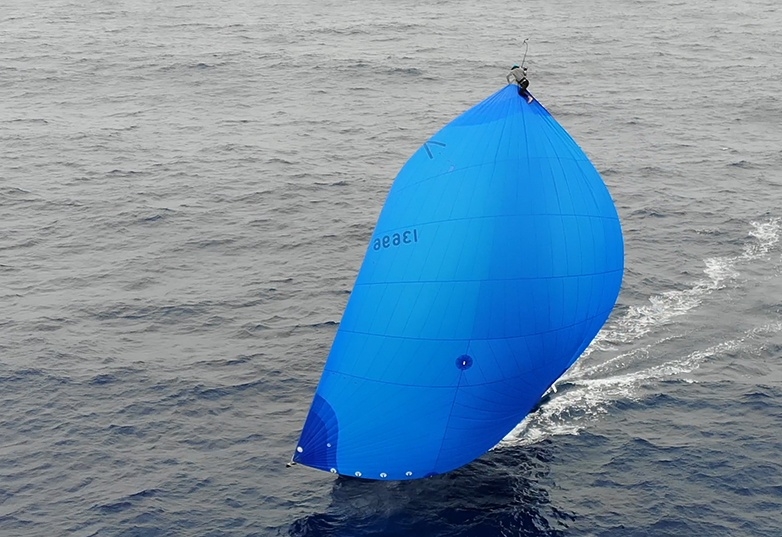 Unfortunately, as we entered the 200nm "Live Zone" our YB tracker battery died. We contacted Race Committee, but they were already aware of the situation and in the process of contacting us. Apparently our tracker went crazy and started pinging the Iridium network constantly, which burned its battery out. They instructed us to give manual updates every four hours, which made for a very stressful day for all you tracker junkies. It was equally stressful for us on board! In actuality, at no time during the last day did we surrender the lead, it just looked that way on Yellow Brick.
Around noon the wind was forecast to go right, which would allow us to get headed up to Molokai on the opposite board. Instead, the wind continued to clock left and remained light (12-15 kts). While this improved our tactical advantage over Velvet Hammer, it made our odds of catching Bretwalda worse, and all we could do was watch them sail to the finish around 2pm in the afternoon (local Hawaii time).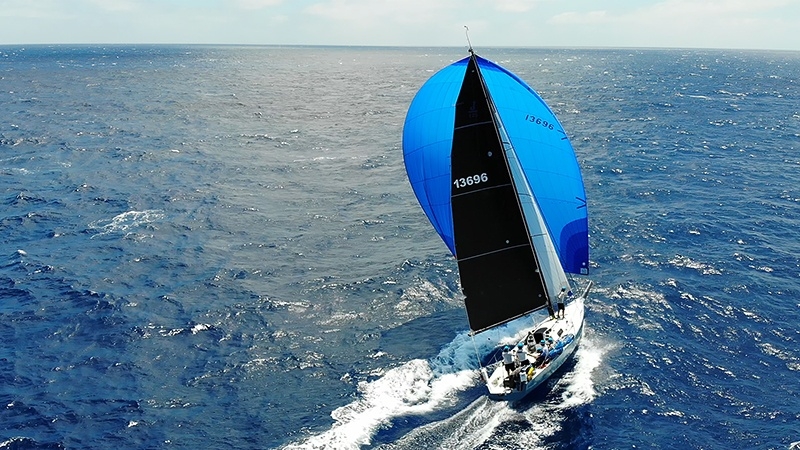 Based on the differences in our ratings, Bretwalda owed us approximately 13.5 hours on corrected time. So once they crossed the line a clock started and we had to finish within that time allowance. Unfortunately, we spent most of the afternoon rolling slowly downwind through swells in light breeze, 150 nm from the finish. We felt good about our ability to finish in front of Velvet Hammer, who was 45nm north and directly upwind of us, but were not so optimistic about Bretwalda 3. The team kept pushing and around 4pm the wind increased to 15 kts, and then by 6 pm it was 17 kts. The wind angle was still terrible but we gybed back on to port and headed to Molokai. The boat kicked up on a plane (Hamachi's boat speed is about 2 kts less than the wind speed) and we started trucking south. The wind continued to increase to 20kts and clock slowly right and the whole team was focused on burning down the miles to the finish. We approached Molokai on a tear at 17-19kts and gybed right towards the infamous Molokai channel. Luckily it was fairly tame that evening and the team threw down six perfect gybes to get around Molokai, across the channel and lined up for Diamond Head. We power reached across the line at 16 kts at 2:21 am Sunday morning to complete the 50th Transpac in 8 days 16 hours and 21 minutes, which gives us a corrected time of 8 day 0 hours and 52 minutes. This time has been, so far, sufficient to put us in first place overall.
It's been a hell of an adventure and one that will not be repeated anytime soon. We were fortunate to start on the "right day" and the high pressure materialized in a manner that allowed us to power reach the whole way to Hawaii in winds that averaged between 15-20 kts. We never saw winds above 22 kts except for a few minutes, and always between midnight at 2 am to make it more exciting. We couldn't have asked for a better crew and having one additional crew member became a clear advantage in the heavier wind versus the other J/125s. It's going to take several days to catch up on sleep and begin to process the magnitude of this adventure and accomplishment. We have really appreciated all the support from our friends, family and Pacific Northwest sailing community.