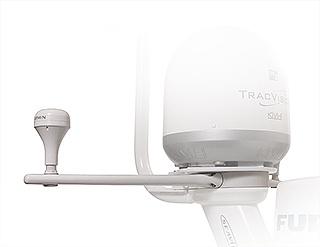 So you have a radar or satdome mount and you want to be able put a small GPS, sat radio or other small antenna to it. Now that Seaview has developed a Spreader Kit you can!
Seaview began to see the need for adding a spreader kit to their product line as more and more people wanted the option of adding other marine electronics to their mounts. The only option prior to the spreader kit was to get a custom mount made, and that could be costly. It was also very costly to ship a mount with spreaders attached. Seaview solved these problems with their modular spreader kit.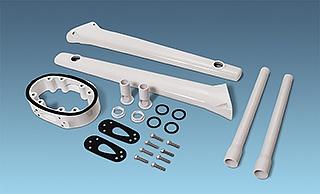 This three piece kit consists of a mid section and then the two spreaders themselves. Four bolts are used to secure each spreader to the midsection. The spreaders are tapered and angled aft so that for what ever you decide to put on there it will not interfere with the radar or satdome that you have on your mount. All the wiring from your GPS unit or antenna can be routed internally through the spreaders and into the mount itself. Not only does this help with security but it also makes for a very nice and clean installation. All the parts that make up the spreader kit are bolted together with rubber gaskets in between each part to prevent any water intrusion.
With this spreader kit there are two ways to configure it, one for a closed dome radar configuration and one for a satdome configuration. The above image illustrates what is included out of the box, including the extension posts. When you are using a closed dome radar with a spreader kit you want to raise your GPS units above the closed dome radar to avoid interference. If you are using a satdome you don't need to use these extension posts with GPS units. You see satdome radio waves travel up to the sky to the satellites, while the GPS waves will travel horizontally. Therefore you do not want these raised above your satellite dome.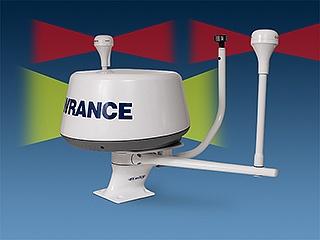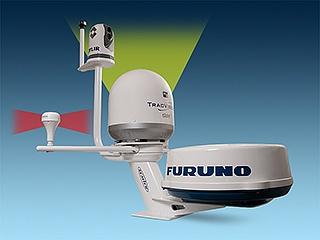 There are two different spreader kits available from Seaview. The only difference between the two is the size of the midsection that mounts to whichever Seaview mount you have. The smaller of the two is the SP1-MOD. Now this mount will only fit on Seaview mounts than have a part number ending in M1, for instance a PMA-57-M1. You see the "M1" designates the size of the main head of the mount. By main head I mean the part that the Top Plates or spreader kits bolt to. Mounts that end in M2 have a much larger head, these mounts are usually Dual Mounts, for example a PMA-DM2-M2 would use a SP2-MOD spreader kit. Before ordering a spreader kit it is very important that you check to see if the mount is even compatible with a spreader kit and to make sure that you get the correct size. If you have any questions regarding this please contact us and we'll be glad to help you out.
Seaview offers a flood light kit to mount underneath each spreader. So if you are need of extra visibility in low light conditions look into getting one these bad boys!
-Eric Young