As this newsletter goes to press, the Newport International Boat Show – the first boat show of the fall season – is in full swing, which is especially exciting since we've all had to wait two long years since the last show in 2019.
But there's another reason to celebrate: it's the Newport International Boat Show's golden anniversary.
Yep, 50 years of excellence in bringing manufacturers, dealers, exhibitors, and boating enthusiasts together to debut new boats, unveil new products, and learn from industry experts how to make the most of our boating experiences.
This also marks the 40th year that PYI has had a presence at the show. For us, it's the perfect forum to introduce new products industry-wide … and this year is no exception. Our team members are there as we speak, unveiling our brand-new MAX PROP Boomerang and ceramic PSS Shaft Seal. We will have two booths, located in Tent B booth 14 and Tent G booth 5.
Congratulations on your golden anniversary, Newport International Boat Show – and here's to the next 50 years. We'll be right there with you.

Introducing … the MAX PROP Boomerang
Five blades efficiently transfer power in the water for remarkable thrust and smooth operation.
By Fred Hutchison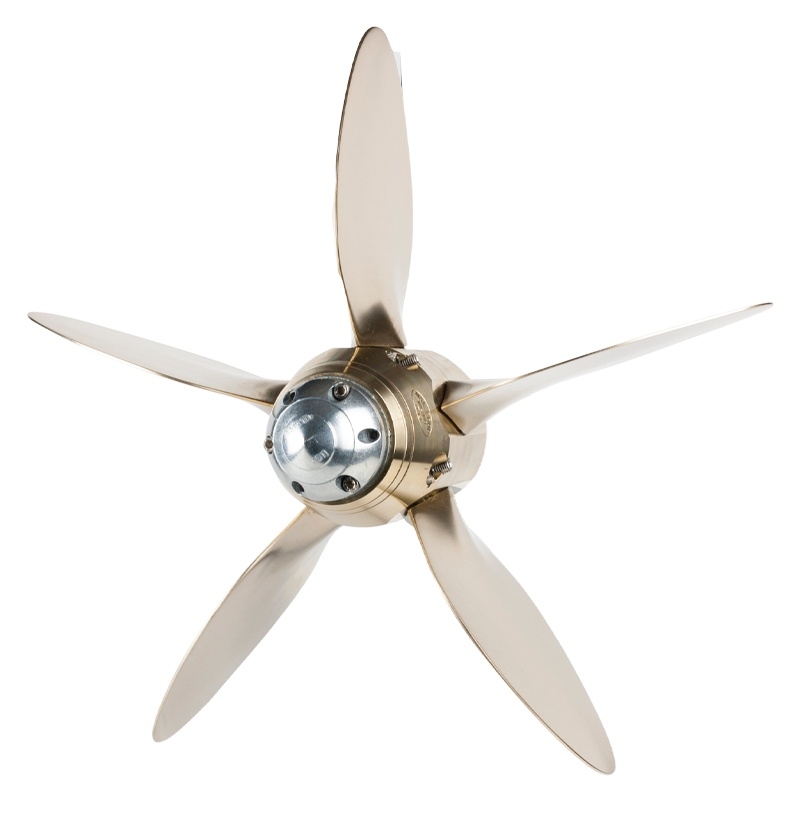 Every year, East Coast boaters attend the Newport International Boat Show to both learn about the latest-and-greatest products as well as organize the work to be done after their boat is hauled in the fall. To help with their first objective, one of the products PYI is debuting at the show this year is the MAX PROP® Boomerang™.
In testing since 2016 and already adopted by several European boat builders, the MAX PROP Boomerang boasts five blades that not only offer efficient power, outstanding reverse, low drag, and seamless operation but also help maintain boat speed on heavier vessels.
Working completely automatically after a simple "bolt-on" installation, the MAX PROP Boomerang incorporates a patented radial spring inside the propeller that forces the blades back into a feathered position as soon as no torque is applied to the shaft. Once the engine is either idle or shut down, the blades will feather within a split second – regardless of the shaft rotation or the boat speed at the time. This can be of great benefit if a boat has electronic shift controls, a hydraulic transmission, or sails at over 20 knots continuously.
If you have a need for speed but also want to keep noise and vibration down to a minimum, check out the new MAX PROP Boomerang.

New Product #2: the PSS Ceramic Shaft Seal
How a non-conductive sealing face deflects excess electricity to prevent damage and pitting.
By Justin Romesburg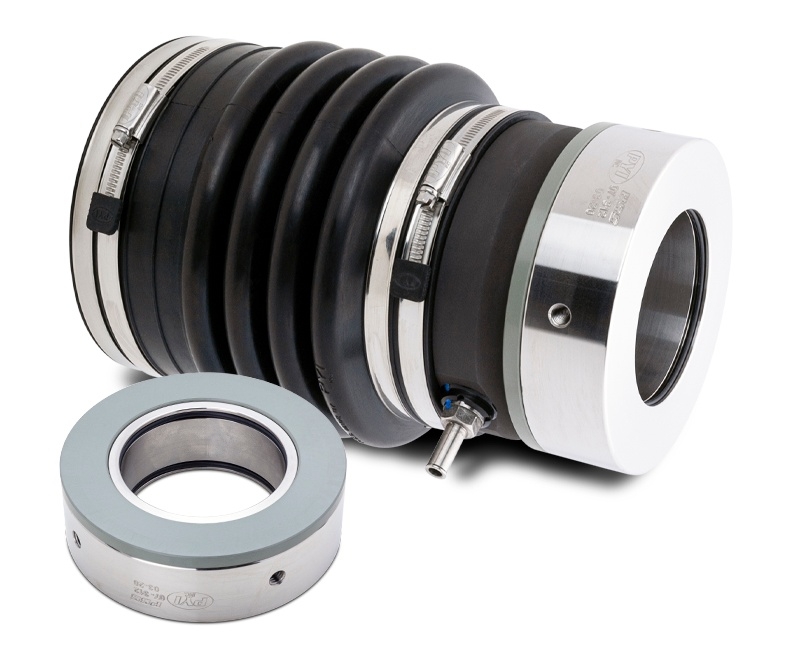 If you have a superyacht or larger vessel with a massive electronics system, you're all too aware of all the electricity your boat is emitting on a regular basis. If not efficiently controlled, this excess electricity can cause electrolysis damage and pitting to your rotors and sealing surfaces. That's where the new PSS Ceramic Shaft Seal comes in.
PSS Shaft Seals are the #1 selling shaft seals worldwide – and for good reason. They've done it again with their new ceramic model.
Instead of having stainless steel against the carbon face, the PSS Ceramic Shaft Seal boasts a durable ceramic sleeve. Due to its inherent non-conductive nature, the ceramic sealing face eliminates the flow of the potential electric current, effectively removing the risk of damaging electrolysis to the sealing face and metal surfaces.
By insulating the rotor and sealing surfaces and protecting them from the harmful effects of excessive electricity, the PSS Ceramic Shaft Seal essentially eliminates the risk of pitting against the face of the seal. The electricity surplus will go somewhere else, preserving the seal and helping ensure its longevity.
To get the most out of this or whatever PSS shaft seal you select, be sure to check out our PSS Maintenance Kit and PSS O-Ring Kit.

Protect Your KiwiGrip From Freezing
The right shipping and storage will keep your product fluid and easy to apply.
By Kenneth Planck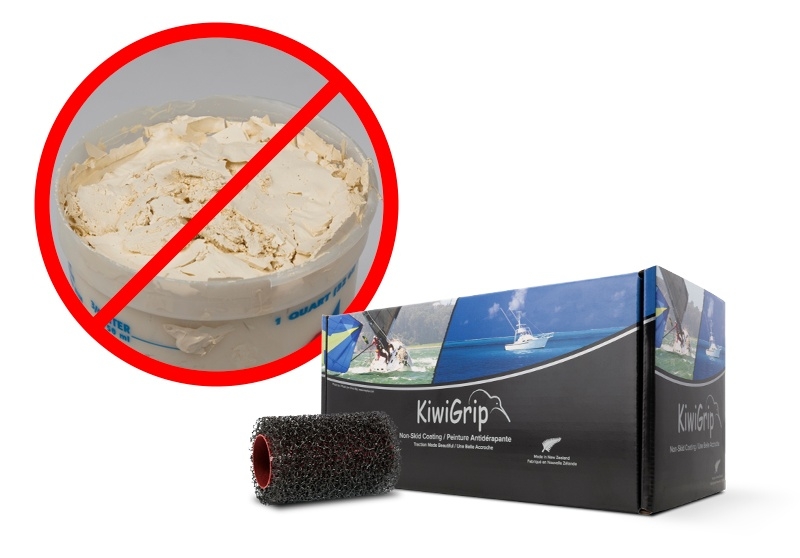 With fall upon us and frigid temperatures in most parts of the country in the not-so-distant future, it's time to start preparing for winter. As you're thinking about everything you need to get your boat ready for dry storage, don't forget to freeze protect your KiwiGrip. Here's why – and how.
As a dealer/distributor, it's a good time to review your current inventory to make sure you're well-stocked to prevent any shortages of products that may be difficult to ship during the colder months. Since KiwiGrip is a water-based product, there are concerns with standard ground transportation in the freezing temperatures typically experienced between October 15 and April 15. Because of this, we recommend shipping any KiwiGrip orders during this six-month window via air freight or truck freight with freeze protection to ensure the products arrive in good usable condition. And product freezing doesn't only happen in transit – be sure that KiwiGrip is stored and/or displayed in an area that remains above freezing at all times as well.
Unfortunately, once KiwiGrip has frozen, it can't be brought back to a usable condition as it solidifies and can't be spread or rolled to the desired texture. However, most of the problems mentioned above can be avoided through proper preparation and planning.
At PYI, all KiwiGrip is stored in a temperature-controlled container or inside our warehouse facility that is always kept above freezing. We keep a close eye on the weather and can make adjustments to the freeze-protect window as needed. We'll also make sure we do everything we can to prevent your KiwiGrip from freezing during transit.
For handy reference, visit the KiwiGrip Application temperature chart.



What to expect in your October Newsletter:



PSS Shaft Seal winterization.


Cleaning and ballasting Fendertex fenders.


SoftDock by Fendertex fenders.


At the Helm with Eric Young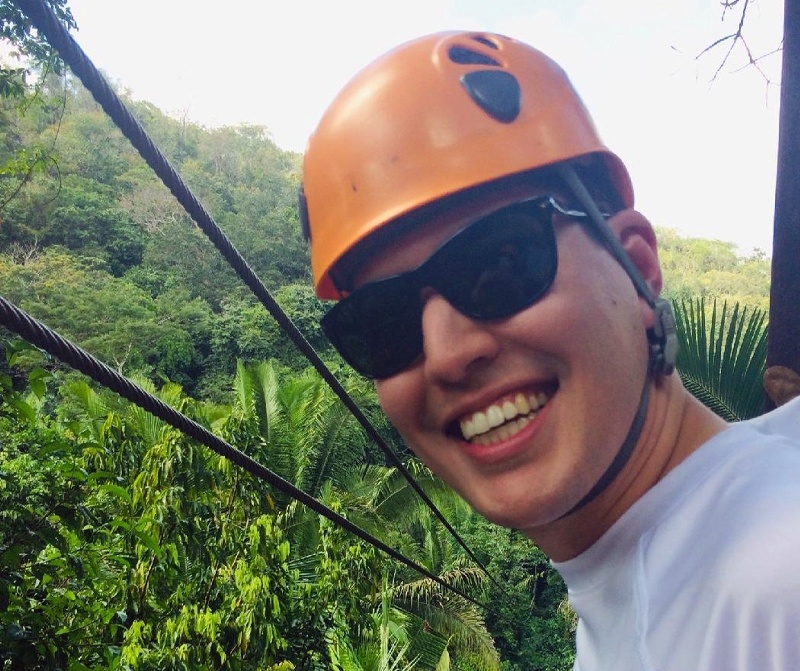 If you enjoy reading the newsletter you receive from us each month, you have Eric to thank for its clean, inviting design. As PYI's Graphic and Web Designer for the past 11 years, Eric not only designed our website but keeps it current with all our latest products, services, and information.
When he's not coming up with the perfect layout, Eric likes being outdoors – skiing, camping, and hiking with his wife Katie. Other hobbies include savoring a craft beer from one of Seattle's many local breweries and building PCs for family and friends.