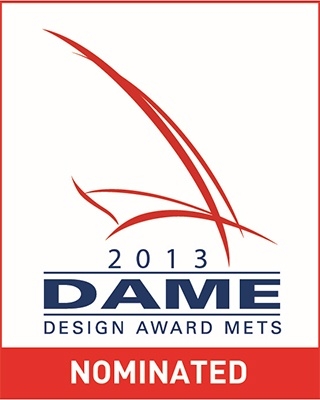 Every year the DAME design award ceremony takes place at the METS international boat show in Amsterdam. Only the most innovative marine products that create a big difference in the marine industry are nominated. That's why we at PYI Inc. are very excited to hear that the Jefa's new Integrated Steering Disengagement Unit for Jefa steering pedestals has been nominated!
Jefa has developed a disengagement steering unit to be used in all Jefa WP700 to WP900 cable steering pedestals. Traditionally, yachts equipped with twin wheels encounter the problem of the non utilized wheel spinning in unison with the utilized wheel, causing extra unwanted inertia. This is especially a problem while under autopilot. Ideally you would only want the wheel you are controlling to spin. Jefa has developed a very innovative solution to this problem: A device allowing a quick disengagement of the wheel from the mechanical steering system by the helmsman.
Now you might be saying that disengagement units in steering wheel hubs already exist! And you would be correct, however these have very high costs and due to their design the steering wheel hub is extremely bulky and would only be usable on a large stainless steel double spoked wheel. Most modern boats use smaller twin wheels made from aluminum, carbon or GRP. And disengagement units for these modern wheels do not exist.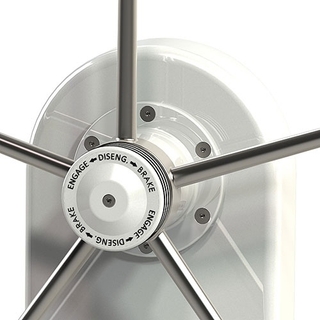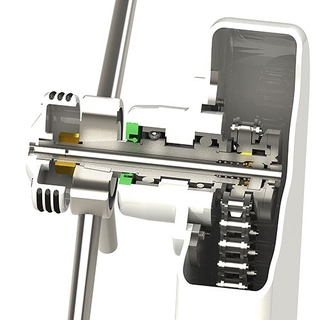 What makes this new disengagement steering unit from Jefa so innovative is that it is very easy, and more importantly, safe to operate. Simply rotate the brake knob of the steering system port side to engage, to disengage rotate the brake knob starboard side. That's it! The disengagement unit is fully enclosed inside the steering pedestal. Jefa designs some of the most beautiful steering pedestals on the market, so it is ideal that the disengagement system is all enclosed and doesn't interfere with the styling. One of the most important parts of sailing is safety, and with this new disengagement system from Jefa you don't have to worry about the wheels automatically rotating during periods when you are utilizing your autopilot.
Jefa designed the units with special tapered self searching gears which allow for quick precise engagement. One of the really great advantages of this system is that it is retrofittable to all of Jefa's existing cable steering pedestals. Below is a video showing how this system works. Click this link if the video below does not appear.
We're really excited to hear that one of our products is nominated for the 2013 DAME award. And from reading all the above information you can see how much of a positive impact it'll have on the sailing community. Now lets just cross our fingers and hopefully we'll win the DAME award!
-Eric Young