After what seemed like an interminably long hiatus, boat shows are back – and we couldn't be more excited. Even though we've been busy over the past 18 months innovating new products, there's nothing like seeing and meeting thousands of fellow boating enthusiasts. We look forward to connecting with you – our boating friends, brand ambassadors, and dealers – again.
Here is the complete lineup of 2021 shows we have on deck.
There are nine shows on the docket from September through the end of the year, and PYI will host a booth at every one. Boat shows are a great way for us to showcase new products and product configurations from some of the manufacturers we represent exclusively here in the US and abroad – and for the top boatyards around the world to debut the latest and greatest yachts, sailboats, and other watercraft. It's everything you want – and need – under one roof.
At the Newport International Boat Show from September 16-19, we'll feature Jefa rudder bearings and new configurations to our Max-Prop automatic feathering propellers. With the racing season kicking off that month, it's the perfect time to get what you need to maximize your boat's performance.
If you're one of our wholesale or retail customers, be sure to stop by our booth to meet the team and learn about what's new. Some of the people you speak with over the phone will be there, so it's the perfect opportunity to put a face with a voice. And if you're one of our dealers and need some extra product support for an upcoming show, give us a holler.
For a list of the boat shows, visit https://www.pyiinc.com/boatshows.html.

Beyond boat decks: the many (surprising) uses for KiwiGrip
Applications for this non-skid product are limited only by your imagination.
By Kenny Planck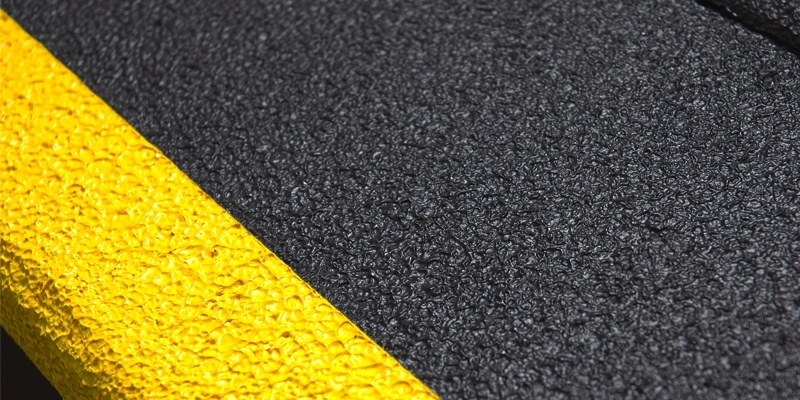 If you thought KiwiGrip was just to prevent your passengers from losing traction on your boat, think again. This amazing one-product-fits-all can be used for a myriad of applications ranging from marine and residential to industrial and parks & recreation.
As a universal non-skid paint for wherever unanticipated falls may occur, KiwiGrip provides a safe, aesthetically appealing solution to slippery or potentially slippery situations. When it comes to watercraft, it's as well-suited for sailboats, powerboats, pontoon boats, and aluminum boats as it is for paddleboards and inflatables.
But think outside the water for a moment: what about wooden decks, patios, stairs, and pool decks at your home, where you want to make sure family members can walk safely? Or commercial or industrial applications like a large-scale brewery … a busy warehouse … lobby entryways … and walkways outside hotel rooms?
Gustav's Grill & Beer Garden in Leavenworth, WA, installed KiwiGrip on their exterior dining deck to prevent slipping – and with wet shoes when coming out of the river. The Ravine Water Park in Paso Robles, CA, applied KiwiGrip outside their water slides as well as in the entry/exit to their pools and on staircases for waiting riders. Other PYI customers have used it on everything from commercial locker rooms and playgrounds to bathrooms and shower pans in retirement homes.
Where will you use your KiwiGrip next?

Getting your bearings on Jefa Rudder Bearings
Why you need them to keep your performance boat in balance.
By Phil Quartararo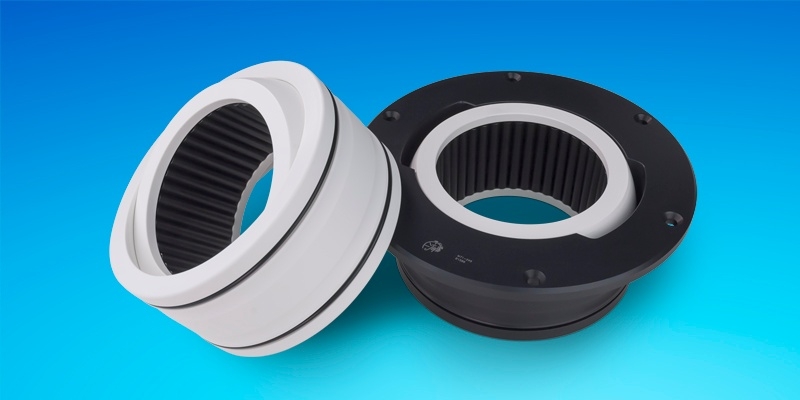 What do J-Boats, Hanse, Bavaria, Beneteau, Dehler, and Farr have in common? Aside from being exceptional sailing vessels, they most feature Jefa rudder bearings. Which is no small coincidence, considering Jefa Rudder & Steering Systems has supplied rudder bearings to more than 40,000 boats and 15,000 steering systems since 1980.
Rudder bearings give tremendous tactile feedback to the helmsman (we call it the "tiller feel of the wheel.") You can literally feel, at your fingertips, when your boat is balanced. When the boat is balanced you eliminate drag that will slow down your boat. Fast boats win races.
Produced with precision-machined rollers and close tolerances to provide smooth operation under load, Jefa rudder bearings are rugged, durable, and reliable. And PYI offers a full complement of replacement bearings in a wide range of styles and sizes, in both standard and self-aligning options, to fit any performance boat.
All Jefa rudder bearings are roller bearings, which is a significant upgrade from the more conventional bushings. Thank your builder for using a state-of-the-art product so you can enjoy your boat more!

Clear sailing (and turning) ahead with autopilot drives
What they are … and how to get the most out of them.
By Phil Quartararo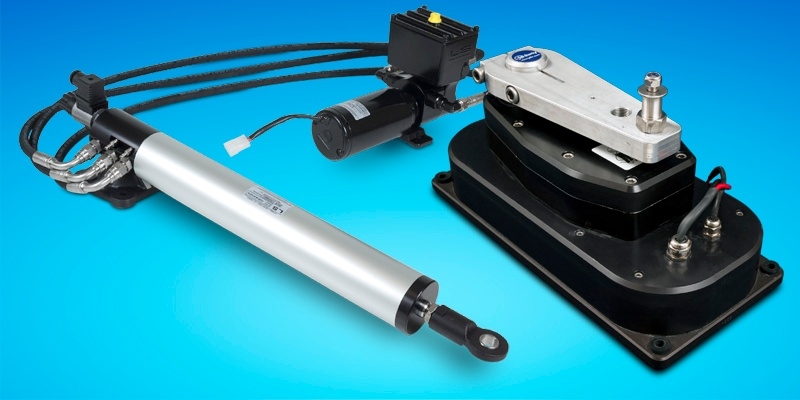 When it comes to autopilot drives, they're honestly as simple as they sound. And they'll make your next trip – literally – a stress-free, hands-free sailing experience. But before we dive deeper into them, let's first clarify the distinction between autopilot controllers and autopilot drives.
The autopilot controller is the "brain" of the operation – it's literally a computer with sensors that read wind angle, wind speed, and the compass direction the boat is heading in. More modern units can also read GPS to give you the true direction of the vessel.
The "muscle" is the electro-mechanical autopilot drive that executes information from the "brain" to steer the boat. Since it's a simple electrical (not electronic) operation, it's compatible with all autopilot brands. Direct current to the clutch engages the drive and reversing DC current turns the rudder to port or starboard. Autopilot drive units do what they are told to be the control unit.
Not only can this give your helmsman a well-deserved break, but it can also actually replace a crewman on extended passages when you're out to sea or heading in the same direction for a while. And you don't have to feed it or listen to it complain!
At PYI, we stock and support a wide inventory of linear, direct, transmission, and sprocket autopilot drives from Jefa and linear drives from Lecomble & Schmitt – with sizes ranging from 25' to 80' vessels. To determine the best model for you, feel free to speak with any of our knowledgeable representatives.


KIWIGRIP PRO-TIP: To ensure a durable, non-skin surface, you'll want to prep the substrate to accept and create a lasting bond with the topcoat. Here's how:
Sand to 100-200 Grit finish
Clean the newly sanded area
Mask for clean lines
Apply a primer/sealant* or paint bast coat and allow to fully cure (this will prevent any water or co-solvents from penetrating the wood)
Once base coat is fully cured, rough up (100-200 Grit) the sealed surface and wipe clean with a non-solvent-based cleaner and tack cloth to remove any dust or residue
Coat with KiwiGrip to the desired texture
*Be sure to check specific prep recommendation for whichever primer/sealant you're using to ensure proper application.
What to expect in your August Newsletter:


Sonihull protection


Shaft and Propeller zincs


New Max-Prop models


At the Helm with Phil Quartararo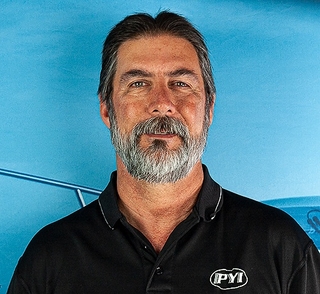 As PYI's second-longest employee (26 years and going strong), Phil Quartararo is product manager for Jefa rudder bearings, steering systems, and autopilot drives; Lecomble & Schmitt hydraulic steering systems and autopilot drives; and Sonihull ultrasonic antifouling systems. He helps his customers create simple solutions to complicated applications.
Born in San Diego, CA, where he learned to sail at age 12 at the Naval Sailing Club, Phil's 48-year sailing career includes participating in the international racing circuit in the 80s, where he competed in races throughout Europe and the US. Other hobbies include camping and riding his three motorcycles (BMW K1600 GTL, BMW R1200GS Adventure, Suzuki DR650). Phil has three children – all grown and done with college!