Our fixed blade propeller was covered in fouling, and I wanted to clean it up. Growing tired of breaking out the power tools and risk damaging the prop, I was looking for another option. Barnacle Dissolver from PYI, Inc. offered me a much more cost effective and easy to use option than a grinder and grinding pads.
After reading and paying careful attention to the instructions I was ready to get to work. Keep in mind that these same steps not only apply to propellers, but to all other running gear as well.
Before beginning, I made sure that I had all the necessary tools needed. Here's a rundown.
Paint scraper
Scotch Brite
60 grit sanding sponge
Eye and hand protection (not required but recommended)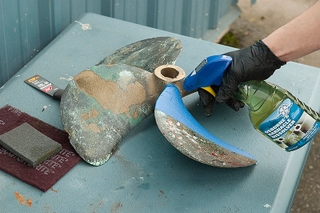 I found it best to work on one blade surface at a time.
To begin, rinse the propeller thoroughly, making sure to remove as much of the loose debris as possible. After rinsing, spray a thick coat of Barnacle Dissolver over the entire surface. Next, wait 45 seconds for the Barnacle Dissolver to activate. If the surface is severely fouled you may need to let it soak for 1 to 2 minutes. In my case 45 seconds was sufficient.
After the coat of Barnacle Dissolver has sat on the propeller for the necessary amount of time, take a paint scraper and with some elbow grease scrape away the marine growth. If you have severe growth you may need to respray Barnacle Dissolver, let it sit, and scrape it again.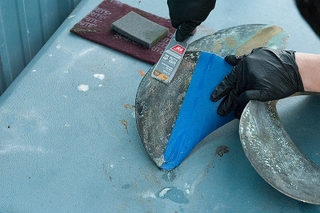 After all hardened marine growth has been removed use water to rinse the propeller. Next, recoat the blade surface with Barnacle Dissolver (no wait/soak time necessary). Take Scotch Brite (or equivalent) and using small circular motions, scrub the remaining debris away. Once that step is complete, give the propeller another thorough rinse with water.
In order to achieve a nice "polished" finish, recoat the surface in Barnacle Dissolver. Using a 60 grit sanding sponge, polish the propeller while the Barnacle Dissolver is still on the prop. Give the prop a final thorough rinse and you are done.
Along with the use of Barnacle Dissolver and an hour or so of time, I was left with a very clean prop and plenty of left over product to tackle some of the other running gear.
Watch us take a dirty old propeller and make it look brand new again!
- Eric Young